Safari Cars To Hire For Next Uganda Safari
Uganda is ranked highly among the top safari destinations and rightly so given its abundance of tourist attractions, temperate weather, and general state security. Whether you are a wildlife & nature lover, adventure seeker, cultural enthusiast, or into city trips, there is no denying Uganda has something to over to every type of traveler be it solo, couple, family, or group.
There are over 20 well-known Uganda safari destinations, each offering a unique attraction or activity and situated in both easily accessible and remote destinations in Uganda. If you want to travel to these destinations safely and comfortably, you require a strong 4×4 car built for safaris- a vehicle that can handle the rough off-road tracks, and steep and muddy slopes so you don't have to worry about getting stuck in a pothole or failing to ascend a hill on your safari in Uganda.
There are a variety of 4×4 cars for hire in Uganda ideal for guided and self-drive park safaris but we have narrowed it down to the best 5 based on features and price.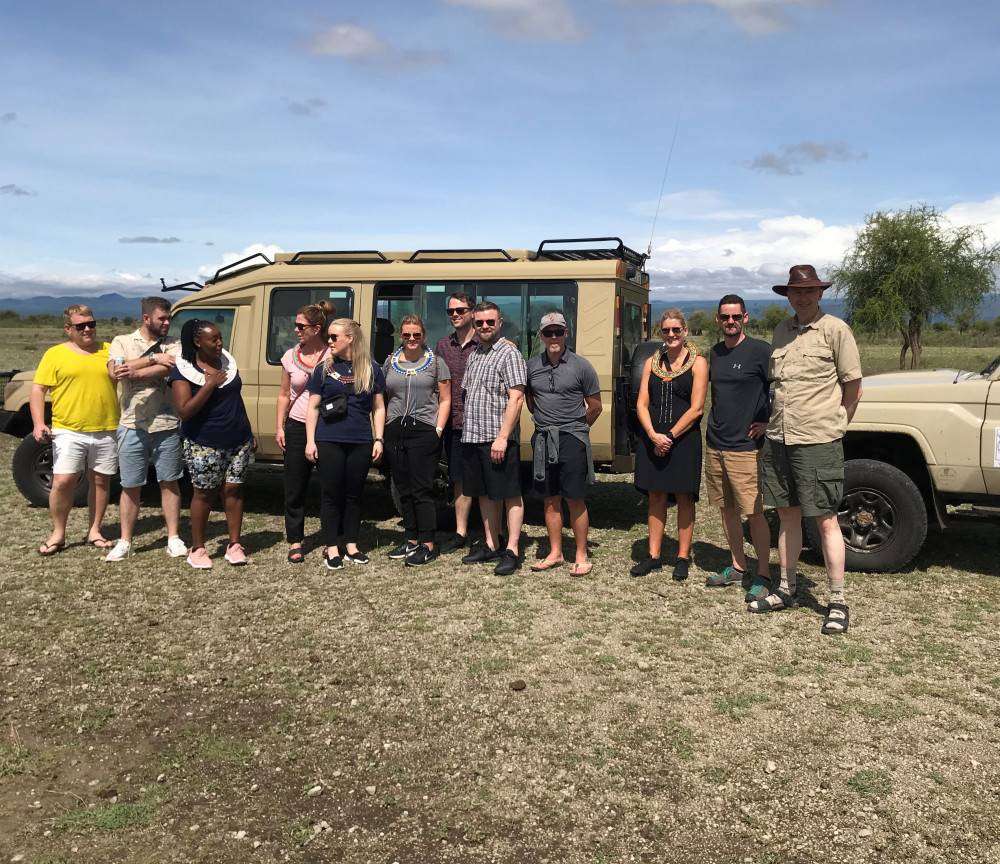 5 Best Uganda Safari Cars To Hire
1- Safari Land cruiser
Regarded as the alpha safari vehicle, this mid-sized station wagon can accommodate up to 7 people comfortably with adequate leg room, head space as well cargo compartment in the rear as well and a roof rack. The pop-up roof on the safari land cruiser is the best feature of this magnificent 4×4, tourists get a chance to pop their heads out to get great views of nature & wildlife and also feel the cool wild air. You can only hire a safari land cruiser in Uganda with a professional driver or tour guide as they are not easy to drive.
2- Toyota Rav4
If you are looking for an affordable and easy-to-drive safari car in Uganda, then look no further than the Rav4, a compact SUV that can handle both on-road and off-road trips. Manufactured in 3-door & 5-door versions, the Rav4 features an AC, MP3/CD player with automatic gear transmission. You can book a Toyota Rav4 in Uganda for as low as US$ 70 per day making it the cheapest 4×4 for self-drive trips in Uganda.
3- Land Cruiser Prado
Another suitable car for Uganda safaris is the infamous Land Cruiser Prado model that can also be used for city tours, airport transfers as well special occasions like weddings or VIP convoy trips. The Land Cruiser can seat up to 5 people comfortably with adequate legroom as well cargo space in the rear. Rates for hiring a Land cruiser in Uganda range from US$ 70 to 90 per day with a driver excluding fuel.
4- Tourist Van
Travelling as a small group or family is always a fun and exciting road trip but passenger discomfort could ruin everything and that's why you need to book a minivan that can seat everyone comfortably. The safari or tourist van is by far the best group van for hire in Uganda seating up to 9 people with adjustable seats but a little space for luggage in the rear. Just like the safari land cruiser; the tourist van features a pop-up roof ideal for game viewing when in the parks. You can only hire a safari van with a professional driver as it's not an easy vehicle to drive.
5- Minibus
If you plan on travelling as a group of more than 10 people, then you will require a vehicle much bigger than a minivan – you will need to hire a minibus and there are no better ones than the Mitsubishi & Rosa buses that can seat up to 28 people comfortably. These minibuses both offer adequate head space, and leg room with a small TV, radio, and MP3/CD/ DVD players to keep the passengers entertained during the road trip. You can hire a minibus for a group safari in Uganda today with a driver at rates ranging from US$ 120 to 150 per day excluding fuel.
So if you are planning an Uganda safari adventure and still haven't decided which 4×4 safari car to book for the trip, we hope you can choose from the above cars based on your travel budget as well as personal or group needs. You can contact us now by sending an email to info@fkcarrentaluganda.com or by calling us at +256775694186 to speak with the reservations manager.