Camping trips are one of the leading adventurous ways of reaching extremely near nature in a satisfying and exciting perspective or way. Keeping up outdoors is not comfortable but to those that love nature, it sounds impressive. Camping safaris in Uganda are an adventurous route of locating the most suitable out of all Uganda National parks and tourist places in the country, most of these places have well-protected and secured campsites free from animal attacks.
To have a successful budget camping trip, there are some of the leading tools to carry along or they should be on your must-carry list, and down are some listed for you.
Tent
Camping tents provide quick shelter for you while on your road trip, try to discover how many people are traveling and understand the size of tents you will require. Camping tents vary from one sleeper to as many as ten. Using a sleeping tent protects you from hush weather such as rain and too great sunshine, you simply need a mobile house compared to making tree branches as shelter. Ask your 4×4 car rental company about the sleeping tents and their ability.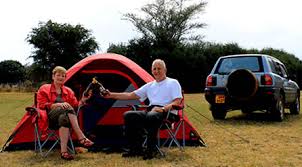 Bedding supplies
Much as you have a tent as a shelter, you will not rest on tough and rough ground, ask for a requirement of an easy camping mattress, and if likely carry your own sleeping bags for security and a pillow to have a relaxing night's sleep. Sleeping materials are extremely meaningful, you would not want to wake up with a cold after a complete night without friendly bedding or hurt muscles after sleeping on hard and tough ground.
Utensils and cooking tools
While loading for your camping safari in Uganda, do not forget to carry cups, plates, and cooking materials like saucepans, others may end up starving or spending more than you wished on food in restaurants. A few materials can assist, easy cups, and perhaps a cooler box to keep your drinks chilly. If you would want a barbeque set then notify your car rental company in advance.
First Aid kits
Your health and security come first above all, therefore carrying a first aid kit is a smart decision. Remember you are discovering the wild, you can experience insect bites, bruises, snake bites, mosquitoes, cuts out of chopping, and many more. Things in a first aid kit include blades, gauze, cotton wool, and clean wipes.
Food and water reserves
Before you stage your camping area, make sure you have adequate food stored for the number of people camping and water store. Many of the camping sites are in small places with no shops available to buy any food, therefore make sure to have enough to eat until you locate a place where you can get more. Water supply at your campsite is again extremely important, whether you are near a river, lake, or created water supply point.
To book a camping safari or camping gear in Uganda, you can send an email to info@fkcarrentaluganda.com or call us now at Airtel;- (+256-707457134 ), MTN;- (+256-774784213), WhatsApp:- (+256-775694186) to speak or chat with our reservations team.