Best 4X4 Cars For A Comfortable Road Trip In Uganda;– Recognized around the world as one of Africa's excellent safari destinations, Uganda is a land blessed with a combination of attractions that vary from wealthy culture & wildlife to breathtaking landscapes and water bodies. These wonderful tourist attractions are spread across all corners of the country and the most reasonable way to get there is by well-maintained 4×4 cars, it could be with a driver or for self-drive but there is no denying that it's largely secure and more relaxed to discover Uganda is a personal rental car.
There is a combination of car rental companies delivering a broad range of the best 4×4 cars For A Comfortable Road Trip In Uganda but you have to be mindful when selecting one to book with and most importantly pick an excellent 4×4 car that suits your travel budget as well as personal needs to save money and time. You require a car that can manage the bad road, and cross steep and muddy slopes but at the same time offer you the same class of comfort as a luxury car would.
We give a variety of well-maintained best 4×4 cars For A Comfortable Road Trip In Uganda but the 4 mentioned cars in this article complete the list due to their amazing interior and exterior elements, price range, fuel economization as well as the comfort of driving.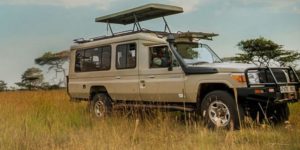 1- Safari Land cruiser – On top of the list of 4×4 cars for hire in Uganda is the powerful Safari land cruiser, one of the most famous safari cars in the world ideal for park trips, camping safaris, research projects, photography, and many other activities that may need a powerful 4×4 like the cruiser. It has a pop-up roof perfect for game drives, and a fridge box for drinks and when you add on the high ground clearance and enough luggage room in the trunk, you got the ideal 4×4 car or any road trip. An everyday safari land cruiser can transport up to 7 people seated comfortably while the extended land cruiser can transport up to 9 people comfortably excellent for family road trips.
Rates;- range from US$ 130 to US$150 per day with a driver if you want to hire a safari land cruiser in Uganda for a guided park safari.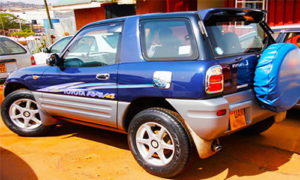 2- Toyota Rav4 – Another excellent 4×4 car to hire for a park safari in Uganda is the Toyota Rav4, this compact SUV is one of the most booked 4×4 cars in Uganda mainly booked for self-drive road trips by solo travellers and couples preparing to tour the parks, business trips or leisure road trip. The rav4 can transport up to 4 people comfortably with a big cargo room in the back and a well-performing air conditioner. Not only is it comfortable to drive, but the Rav4 is even good at economizing fuel thus enabling you to save money. The rental fee for a Rav4 starts from US$ 50 per day for self-drive excluding fuel.
3- Land Cruiser Prado TX – Another fantasy by Toyota Motors, the Land Cruiser Prado is one of the fantastic 4×4 cars in the Uganda car rental demand. The 4-wheel drive cruiser can transport up to 5 people seated comfortably with a big room for cargo in the back not to mention the enough leg room given for passengers to enjoy a relaxing road trip. Just like the different 4×4 cars mentioned, the Land Cruiser prado can manage the bad roads of the parks with increased ground clearance and a body made to manage all kinds of weather. Land cruiser rental costs in Uganda begin from US$ 70 per day excluding fuel.
4 – Safari van – preparing to tour Uganda's national parks as a small group of approximately 6 to 8 people, then you should hire a safari van in Uganda for a relaxed group safari. The 4×4 minivan can transport up to 8 people with a big room for cargo in the back as well as rooftop. Just like the safari land cruiser, this tourist van has a pop-up roof with a fridge box as well making it the ideal car for camping safaris and game drives. The rental fee for a safari van begins from US$ 90 per day with a driver excluding fuel.
So if you are preparing to tour Uganda's national parks or visit any local destination within the country, you should think of hiring a 4×4 car for a secure and comfortable road trip. Check out our fleet of the best 4×4 cars For A Comfortable Road Trip In Uganda and get back to us to ask about the availability and costs. You can just send us an email at info@fkcarrentaluganda.com or call us now at Airtel;- (+256-707457134 ), MTN;- (+256-774784213), WhatsApp:- (+256-775694186) to speak or chat with our reservations team.