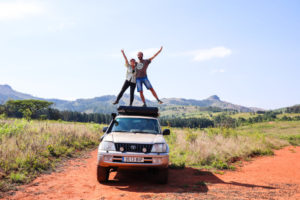 Explore Uganda at your peace and pace on a self-drive vacation. At FK Car Rental Uganda, we know how charming the thought of driving yourself to any selected park or destination is, the power and freedom you get permit you to have a relaxed trip itinerary offering you that personalized road trip adventure you deserve. Whether you need to visit an Uganda National Park or a famous local tourist destination, drive around Kampala city, or attend a business meeting, you will be in the driving seat, creating the self-drive choice more thrilling.
We deliver a broad range of well-maintained cars to all kinds of tourists including solo travellers, couples, family trips, business trips, and small group trips. If you are preparing to self-drive in Uganda this season, you will need a powerful 4×4 car if you are visiting the Uganda national parks or a well-maintained sedan or SUV if you are driving around Kampala city and suburbs on business trips or leisure vacations.
We have chosen some of the most famous tourist destinations you can visit in Uganda. You will find location details about these places, how to get there, and the lodgings available.
Looking for a good 4×4 rental car for a Uganda self-drive Safari? You have come to the correct place. We will get you a 4×4 rental car that suits your budget and personal demands such as a luggage room. Contact us today by just sending us your inquiry to info@fkcarrentaluganda.com or call us now at Airtel;- (+256-707457134 ), MTN;- (+256-774784213), WhatsApp:- (+256-775694186) speak with the reservations personnel today.