FK Car Rental Uganda Special 4×4 Car Rental Offer;- The high-season vacation months in Uganda are here and as expected will be flooded by most travellers on safari experiences, business trips, or leisure holidays. The peak season is the ideal time to travel as most hotels, safari lodges, and many service providers reduce their rates to tap into the big group of incoming travellers.
FK Car Rental Uganda will even be giving amazing discounts for clients looking for a 4×4 rental car, hire a driver, or in need of related services during the 2023 months of May & June, come and enjoy special affordable costs on 4×4 car hire in Uganda and save some money for different things.
Down are the 4×4 rental cars, drivers, and services we will be giving at discount prices during the 2023 peak season months.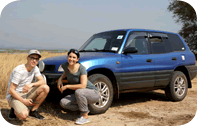 Car 1- 4×4 Toyota Rav4
This 4×4 Toyota Rav4 is the cheapest 4×4 car rental in Uganda suitable for self-drive adventures around Kampala City and Uganda national parks as well. It can comfortably transport up to 5 people with an air-conditioner and enough room for cargo in the back.
Discount – Hire a Toyota Rav4 in Uganda from US$ 50 per day to US$ 60 per day for self-drive. If you need to rent it for a month or more than a month, we can give it to you at the lowest price of just US$ 45 per day.
Car 2 – Land Cruiser Prado TX – This Land Cruiser is a car that can transport up to 5 people seated comfortably, perfect for park trips and up-country road trips as well business trips.  The roof rack and the boot room offer you all the luggage room you need.
Discount – You can hire a land cruiser Prado TX in Uganda from US$ 70 per day to US$ 80 per day on self-drive for 2 weeks or more than 2 weeks.
Driver Hire In Uganda – Drivers hired by FK Car Rental Uganda are nicely qualified, professional with valid driving permits, and most importantly have a good understanding of most of the places in Uganda including the Kampala city streets and roads to different national parks. Only sit back, relax, and allow your driver to drive you wherever you are going safely.
Discount – Hire a driver from US$ 40 per day to US$ 30 per day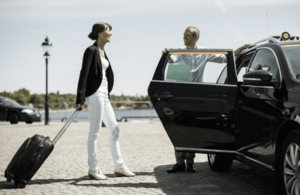 Book an Airport transfer to and from Kampala city
Save time and money and book an Airport transfer to and from Entebbe International Airport to and from your hotel/ home in Kampala City.  Book a personal rental car online with us, our driver will be waiting for you at Entebbe Airport prepared to drive you to your lodging or next destination.
Discount – From US$ 50 per transfer to US$ 60 per Airport transfer including driver and excluding fuel.
Enjoy our amazing high-season offers today by sending us an email at info@fkcarrentaluganda.com or call us now at Airtel;- (+256-707457134 ), MTN;- (+256-774784213), WhatsApp:- (+256-775694186) to speak or chat with our reservations team. Amazing discounts on rental cars, driver hires, and airport transfers are from 1st May to 30th June, so rush up while the offer is still available.