A self-drive trip or just self-driving is a road trip where one rents a car and follows a way by oneself without the help of a driver but just a GPS and sometimes without one. The freedom and aloneness the self-drive choice offer will provide any traveler with the experience they have never dreamed of.
Of all the wonderful tourist destinations in Africa, a safari in Uganda is considered one of the finest experiences that offer you an opportunity to experience a variety of wildlife species and local tribes in only a short period of time. From the mountain gorillas, and Big Five animals to the ever-green equatorial rain forests, breathtaking landscapes, and attractive water bodies, any adventure seeker and wildlife lover will smoothly get addicted to the Pearl Of Africa.
However, before you prepare on driving yourself in Uganda, we at FK Car Rental Uganda have collected a few Often Asked Questions about self-drive in Uganda that will offer you a safe drive, affordably and most importantly make the correct discount that suits your budget as well as personal needs.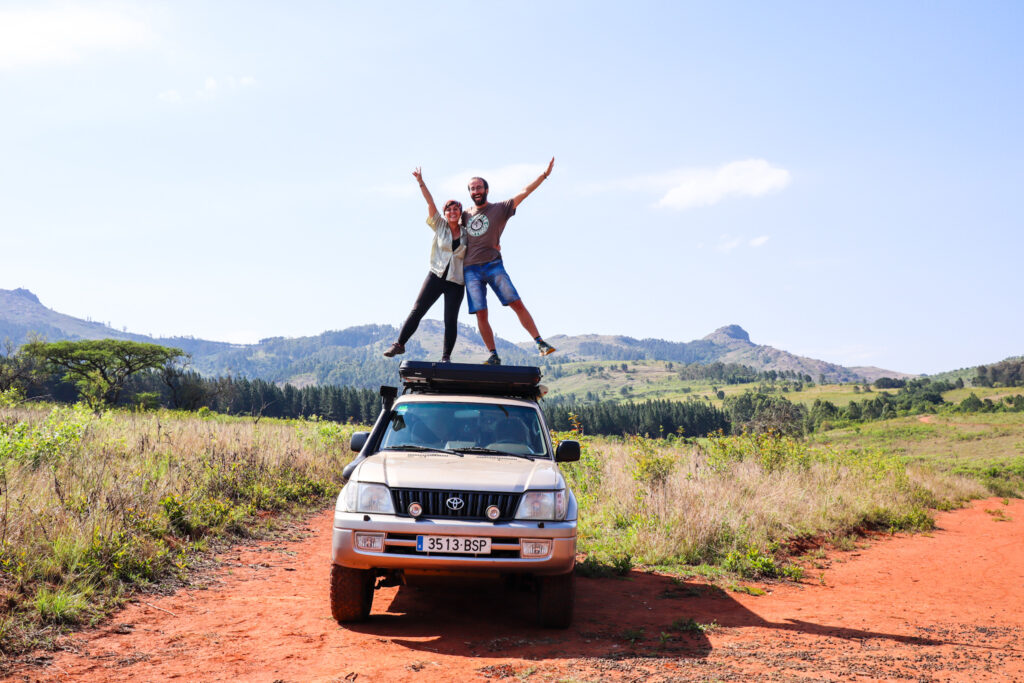 1 – How old do I need to be to rent a 4×4 car in Uganda?
Answer – You can hire a 4×4 car for self-drive from FK Car Rental Uganda as long as you are over 20 years of age with a valid driving license. We extremely recommend you have at least 4 years of driving knowledge if you want to get behind the steering wheel and discover Uganda on your own.
2 – How can I book a car?
Answer – You can make bookings online by filling in the contact form or by sending an email straight to info@fkcarrentaluganda.com. Alternatively, you can come to our office located along the Kampala-Entebbe road in Nyanama or simply call the helpline at Airtel;- (+256-707457134 ), MTN;- (+256-774784213), WhatsApp:- (+256-775694186) to speak or chat with our reservations team.
3- What is the affordable 4×4 car for self-drive in Uganda?
Answer –  A self-drive safari needs a 4×4 car that can manage all types of roads and weather and that's why a Safari car is the ideal option, these car types include the Land Cruiser Prado Tx, Toyota Rav4, Safari Land Cruiser, Nissan Patrol, Super custom van and Safari Minivan but above all these types of cars, one of the affordable safari cars for hire in Uganda is the Rav4 and Land Cruiser Prado TX varying from US$ 50 to US$ 70 per day relying on the number of days you expect to the car.
4- Where do I have to pick up the rental car?
Answer – You can get the car at our office, the Entebbe Airport, or any different selected destination (hotel/residence) of your choice. A driver or a company representative from FK Car Rental Uganda will bring the car to you at your selected time giving you that care worth every money you pay. When you book a car for a self-drive safari in Uganda with us, rest guaranteed you will have it in time in whichever place you are in at that given time.
5 – Can I drop off the car at another location?
Answer –  No, the car will be brought back to the same place you picked it from, just in the case of Kampala city, you can leave it at any place within Kampala or Entebbe city and we will pick it up at no additional cost.
6- What rental car fuel types are available for hire?
Answer – We provide both types of diesel and petrol-fueled 4×4 cars for hire at FK Car Rental Uganda, simply make a selection and we will get it for you. Diesel and Petrol fuel costs vary from US$ 1 to 1.5 which is about 3200 to 3400 relying on the fuel type.
7 – What is the fuel policy for renting a car in Uganda?
Answer – We bring the car to you with a full fuel tank and expect it to be returned back to us in the same way and if the car is brought back with less than a full tank, you will be charged an extra fee to pay for the lost fuel capacity. All our Uganda self-drive cars are provided based on unlimited mileage so you can travel to any place as long as you pay for your own fuel.
8 – What if I bring back the car late?
Answer –  If you bring back the car a few hours late on the last day, you won't be charged by a majority of 4×4 car rental agencies in Uganda but if you make the mistake of bringing it back a day later, then be ready to pay an extra fee for the same amount you paid per day. It's recommended to contact the company reservations team and let them be aware of your wish to extend the number of car rental days, you might actually get a discount.
There are a variety of inquiries travelers ask about self-drive in Uganda but the above 8 mentioned are the multiple often-asked questions most of them never miss out on. To ask about renting a car in Uganda, just send us an email at info@fkcarrentaluganda.com or call us now at Airtel;- (+256-707457134 ), MTN;- (+256-774784213), WhatsApp:- (+256-775694186) to speak or chat with our reservations team.