The rich Uganda cooking consists of traditional and stylish cooking elegances, Practices, foods and dishes with a lot of English, Arab and Asian impact mainly the Indian culture. Just like the cooking of different or most countries, it changes in difficulty, from the most basic which is starchy contents with the accompanied sauce like beans or meat to many different classes of meals that are served in preferably upper-class homes and deluxe restaurants.
Many of the tribes in Uganda have their own unique dishes with many of them including different pleasures of vegetables, yams, bananas, Cassava, potatoes and different equatorial fruits. Stews and sauces can substitute chicken, pork, fish, and legumes many of them are fresh but there is even a combination of a dried course, all made for stewing. More to the sauces, beef, mutton and goat are again typically eaten in different areas around Uganda though they are less consumed in rural places than in other urban places of the country. Generally, they are all dubbed as Nyama, a Swahili phrase locally meaning meat.
These Are Some Of The Top 7 Local Dishes You Should Have While On Your Visit To Uganda.
Matooke even locally dubbed ebitookye in south-western Uganda and Ibitoke in Rwanda is a fruit of starchy bananas and the typically cooked kind is the green one. Matooke or green cooked banana is peeled carefully, thereafter covered in Banana leaves and in the cooking pot, or  "Sufuria" in the local tongue with a heap of banana stems to maintain the heat within the cooking pan and it is cooked for a couple of hours. When it is ready, it becomes soft and yellow, it is therefore mashed while still covered and thereafter it is nicely served while still hot with the delicious stew of g-nuts, meat or fresh fish.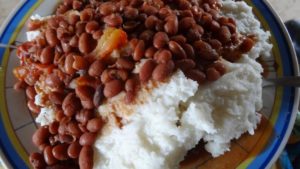 Posho / Ugali
Kawunga is the local name for Posho and is even normally known as Ugali and mainly got from maize. Different tribes in Uganda make Millet bread out of millet grain which is locally named Kalo, which is a good dish in Western and southwestern parts of the country. In eastern Uganda, some areas include cassava flour to make Kawunga and some consume it as porridge.
Malewa
Malewa is primarily a smoked bamboo node which is ever-dried for its preservation. Many of these bamboo trees grow on the hills of Mountain Elgon in Eastern Uganda. Originally Malewa was provided as food, but not until current years when people now organise it as sauce combined with peanuts or SimSim (sesame seeds). This is the main food in the Bugishu region, therefore if you have a trip to Mbale, do ask for Malewa.
Luwombo
This is again another traditional dish locally cooked in the central region and especially by the Baganda people. This is either a dish of chicken, beef, peanuts, mushroom, or dried fish. The dish is cooked at many important events like wedding parties, restaurants and on memorable days.
SimSim (sesame seeds)
This is a food, mainly in the Northern parts of Uganda. The roasted SimSim paste is most times mixed into a stew of vegetables or beans and is normally served as a side dish. The simsim paste may even be used to apply on bread for breakfast, snacks and many other delicious candies.
Ground nuts
Ground nuts are an extremely amazing sauce generally eaten in Uganda. The sauce is served with Matooke, Rice, potatoes, and yams and some people eat the ground nuts row, while others roast them. It is such a good delicacy that you can have them as accompaniments for breakfast
Kikomando
This is a cheap meal on nearly every street in Uganda. kikomando is made out of chapatti pieces, cut and served with fried beans. Originally, the meal was eaten by everyday workers who could not manage expensive meals but today the dish has been normalised and made in restaurants as well.
FK Car Rental Uganda provides a team of well-qualified Ugandan tour guides who will be capable to drive you to some of the best restaurants around Kampala City for an opportunity to taste some of the above-mentioned local dishes. For a food tour around Uganda, just send us an inquiry at info@fkcarrentaluganda.com or call us now at Airtel;-  (+256-707457134 ), MTN;-  (+256-774784213), WhatsApp:-  (+256-775694186) to speak or chat with our reservations team.